Meet "TIPPER" the Crime Stoppers Dog
December 09, 2014
Crime Stoppers News
Rescued from an illegal Puppy mill in Newfoundland many years ago, a young sheep dog pup grew up strong, loyal and courageous.
Wanting to help others and dedicated to stopping illegal activity all over Newfoundland and Labrador the young dog adopted a new identity and spends his days traveling throughout Newfoundland and Labrador stopping criminal activity wherever it exists.
let us introduce "TIPPER" the crime fighting super dog.
---
2014 Police and Peace Officer of the Year (POYA)
May 02, 2014

---
New Partnership with NL Housing Corporation
January 06, 2014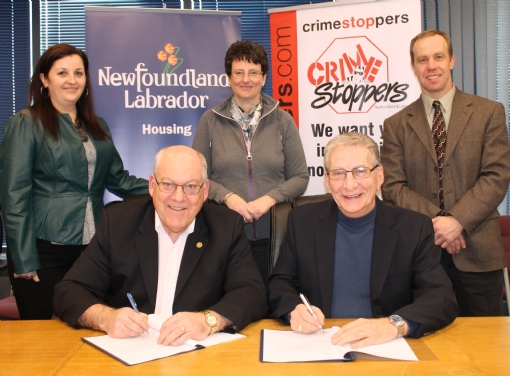 Crime Stoppers Newfoundland and Labrador recently accepted a cheque from NL Housing Corporation in the amount of 5000.00 to assist in developing a partnership that will see Crime Stoppers assist in helping prevent crime on properties owned by NL Housing.
Thank you to NL Housing for your support of Crime Stoppers.
---
| | | |
| --- | --- | --- |
| Page 2 of 2 | 23 Records | Prev | Next |