Media Release-Crime Stoppers Month
January 22, 2015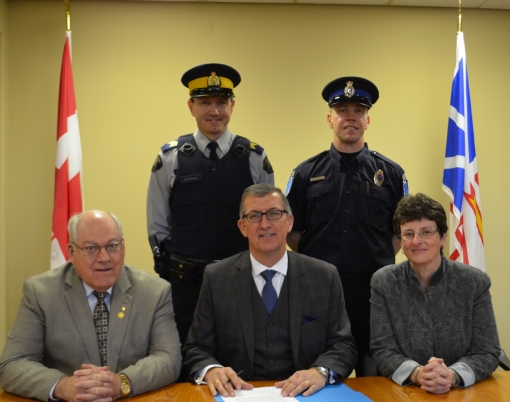 January
January 21, 2015 – The Honourable Paul Davis, Premier of Newfoundland and Labrador and Mark Brown, Chair of NL Crime Stoppers, proclaim January 2015 Crime Stoppers Month for the province of Newfoundland and Labrador.
"On behalf of the province of Newfoundland and Labrador, I am pleased to extend support in the marking Crime Stoppers Month and in the promotion of the organization's hard work. Crime Stoppers Month is an opportunity to raise awareness of this valuable collaborative and community effort," said Premier Davis.
Crime Stoppers is a charitable organization that provides the people Newfoundland and Labrador with a vehicle to anonymously provide information about a crime or a potential crime of which they have knowledge. 2014 shows more than 2100 TIPS received – resulting in 66
arrests, 44 charges and almost $200,000 in goods recovered. Since the start of the program, 3288 charges were laid with more than $7M in goods recovered.
"For over 20 years, community minded individuals across the province have worked with the public, media and our provincial police and peace officers to make Crime Stoppers a success," said Brown. "Crime Stoppers Month is an opportunity to acknowledge the volunteers and their hard work and how we collectively make our communities safer places to call home."
Started in 1992, Newfoundland and Labrador Crime Stoppers is a community-based program and registered chari y. It brings the public, media and law enforcement agencies together in cooperative effort to help solve crime by offering cash awards and guaranteeing anonymity to
persons who furnish information leading to the arrest or laying of charges against criminal offenders.
_________________________________________________________________________________
Bottom left to right: Mark Brown, Chair, NL Crime Stoppers, Honourable Paul Davis, Premier, Province of Newfoundland and Labrador, and Kathryn Atkin, Vice-Chair NL Crime Stoppers Top left to top right: S/Sgt David Hickey, RCMP and Cst. Roy Robinson, NL Crime Stoppers Police Coordinator (RNC)
missing from photo: Sgt. Vicki Chalker NL Crime Stoppers Police Coordinator (RCMP)
---
Meet "TIPPER" the Crime Stoppers Dog
December 09, 2014
Crime Stoppers News
Rescued from an illegal Puppy mill in Newfoundland many years ago, a young sheep dog pup grew up strong, loyal and courageous.
Wanting to help others and dedicated to stopping illegal activity all over Newfoundland and Labrador the young dog adopted a new identity and spends his days traveling throughout Newfoundland and Labrador stopping criminal activity wherever it exists.
let us introduce "TIPPER" the crime fighting super dog.
---
2014 Police and Peace Officer of the Year (POYA)
May 02, 2014

---
New Partnership with NL Housing Corporation
January 06, 2014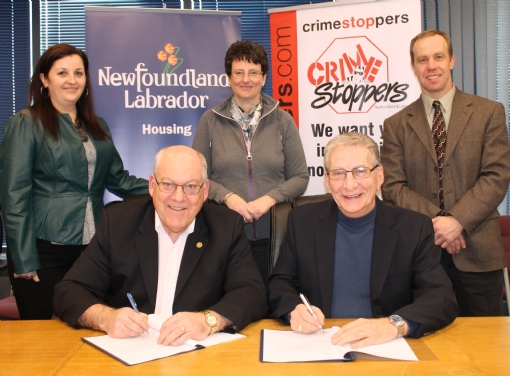 Crime Stoppers Newfoundland and Labrador recently accepted a cheque from NL Housing Corporation in the amount of 5000.00 to assist in developing a partnership that will see Crime Stoppers assist in helping prevent crime on properties owned by NL Housing.
Thank you to NL Housing for your support of Crime Stoppers.
---
| | | |
| --- | --- | --- |
| Page 2 of 2 | 24 Records | Prev | Next |